Folding Business Card - Size: 85mm x 55mm (140mm x 55mm open)
Business cards are very effective, low cost and simple to use, one of the most effective networking tools you can find, and certainly one of the easiest to use. It will keep working for you hours, weeks and even years after it leaves your hands!

Download the business card Artwork Template and create your card design. See artwork set up guidelines for Business Cards.

Place your business card order below. Click Order Business Cards and upload your artwork files at the very end of the check out and payment process.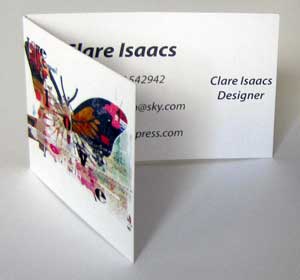 Prices Shown Inclusive of VAT
Upload your artwork at the very end of the ordering process
Stylish Folding Business Cards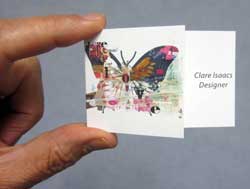 A modern take on the traditional business card. Make your first impression count when you really want to stand out from the pack of other business cards, consider folded business cards. Your imagination is the only limit.
When potential customers receive folding business cards, not only will you be promoting with examples of your work, your logo or branding, but you have room for additional important information, such as special offers or introductory deals that simply won't fit on a regular business card.
Best of all your folded business card will still fit in a wallet, purse or satndard business card holder.
| | |
| --- | --- |
| | |
| Back and Front | Inside Text |
Artwork Set Up Guidelines for Business Cards
Crops - Please do not add any crops to your artwork.
Photoshop - In Photoshop please flatten all images and don't use extra channels. All files should be saved as a single Photoshop PDF. One file for front one for back.
Illustrator - In Illustrator fonts should be converted to outlines. Images to be embedded and then files saved as either a single EPS or press ready PDF. One file for front one for back.
Colour - Anywhere you use black, define it as cyan=20%, magenta=20%, yellow=20%, black=100%. Use Pantone "solid to process" guide for PMS references supplied for colour matching.
Images - Please use image at 100% at 300dpi.
We are unable to accept artwork created in Microsoft Office or Publisher applications.
For more information or advice on any of our card printing services please call Adrian or Thomas on 0117 952 0105.