Getting started - Sign in to your account
Sign in to manage your image files, save and view previous card designs and view all your previous card orders. It makes re-ordering your cards so much easier.
Getting started - Designing your greeting card
Sign in to your account, choose a card size, upload your image file, and customise your card by adding text.
Adding an image to your card design
Uploading an image to your card design is straightforward. Supported image file types you can upload include PNG, JPG, TIFF, SVG, and PDF formats.
Redcliffe displays and prints card designs in sRGB. Most modern cameras are set by default to use the sRGB colour space, so this means you will not have to do anything more.
Allow your image to go outside the safe area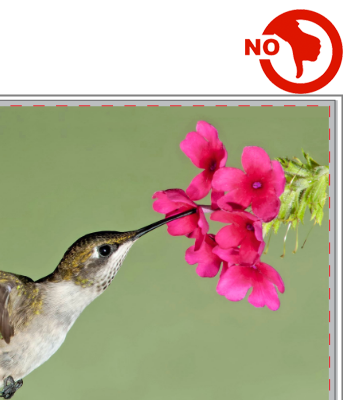 For best results allow your image to go slightly OUTSIDE the red dotted lines of the safe area.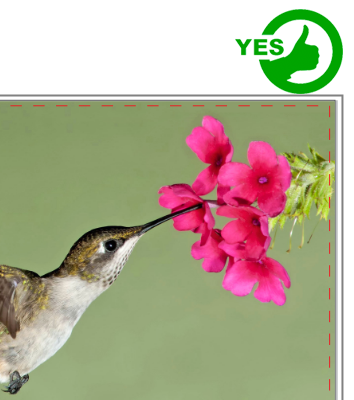 In the example above, there will be no unsightly grey edge when the card is trimmed as the image has been allowed to go beyond the red dotted lines.
How to use your image gallery
Image files you upload are automatically saved to your gallery. When you click on the Add Image button, you have the option to Choose from Your Gallery. This makes it easier if you want to use the same image over a variety of different card sizes, there is no need to re-upload the image each time. And, your gallery is a useful place to store image assets like your logo or any other image that you might regularly reuse.Plus, if you use our fine art print service, you will find that you can access the very same gallery, which makes it very handy if you want to order high quality giclee prints.
Adding & formatting text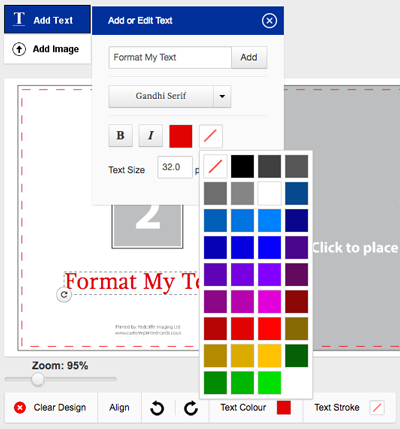 Click on Add Text to add a line of text to the card. You can format your text with a range of fonts, format as bold or italic, change text colours and add a text stroke (colour outline) if required. Scale your text to any size that you require.
Add text to the inside of the card if you wish. Remember to keep your text within the Safe Area which is highlighted with a red dotted line.
You can only enter one line of text at a time, do not try to copy and paste a large block of text.
How do I add a © copyright symbol?
- On a PC hold down the 'Alt' key and key in the numerals 0169. When you next lift your finger off 'Alt', the copyright symbol will appear. You must use the numeric keypad on the right of the keyboard.
- On a Mac simply enter Option + G
Keep your text within the safe area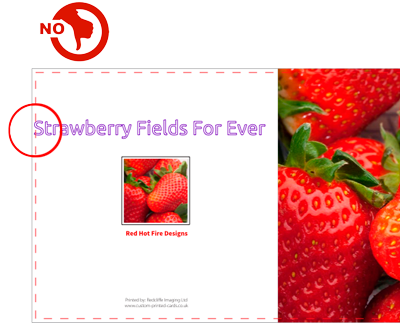 The Safe Area is highlighted with a red dotted line. For best results, keep your text INSIDE the Safe Area!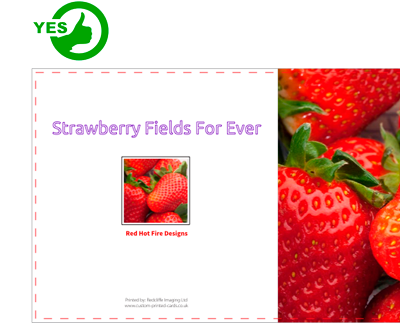 In the example above, the word "Strawberry" needs to be placed within the dotted red line to ensure that it is included in the final card.
Saving your card design
You may wish to save one of your card designs to recall later, perhaps you want to use it as a base template that holds all the details about yourself. You can then recall it whenever you wish to add a new image or design.
Start by clicking on Save Your Design For Later. This will allow you to work on a card design, save it and come back to work on it later.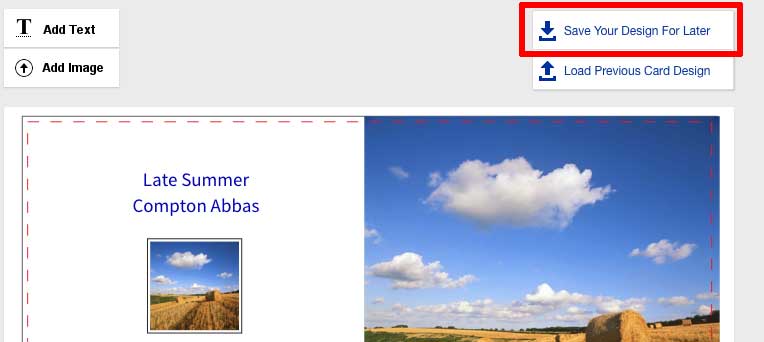 Reorder your greeting cards - made easy
Every greeting card order we produce for you is archived. This means you can reorder more cards without having to submit a new card design again.
Request card designs from our old archive
Want to repeat a previous card order from our old archive? Any cards ordered before 16th May 2023 are stored in our old archive. If you would like any of your previous archived card orders added to your account then use our request form and we will upload them to your account.
Greeting cards from your own print ready PDF designs
We can produce very high quality greeting cards, postcards and business cards direct from your print ready PDF files. Perfect for card designs you have created using graphics applications such as Affinity Designer, Adobe Photoshop, Adobe Illustrator, or Canva.