Greeting Cards From Print Ready Designs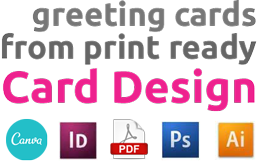 We can produce very high quality greeting cards, postcards and business cards direct from your print ready PDF files.
Perfect for designs created using graphics applications such as Canva, Affinity Designer, Adobe Photoshop or Adobe Illustrator.
All of our card sizes are available as basic card templates for Canva users to use. Choose your desired card size and follow the link to load the template directly into Canva.
What is Canva? It's a drag-and-drop design tool that lets you create pretty much any type of visual content with ease. The easiest way to create stunning graphics and made with the non-designer in mind.
Learn More - Canva Design Templates
Choose a card size and download the artwork template guide
Create your card design and save as a PDF file
Upload your print ready PDF and order your cards
Don't worry, we check every design before printing, if we spot anything we'll let you know.