About Us - Redcliffe Imaging's Story
Redcliffe is a print company that specialises in fine art printing, greeting cards and large format display prints. The smallest thing we print is a business card and the largest is a billboard poster. We serve a very wide range of customers including artists, photographers, illustrators, advertising and design agencies, universities, hospitals, as well as large and small companies.
Redcliffe began way back in 1983. Yes that's right, before digital images, mobile phones and the internet!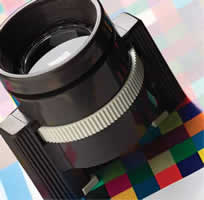 The company started life in a part of Bristol known as Redcliffe, the name seemed appropriate somehow. In those early days we were a professional film processing and photographic print company. Over the years we have evolved into digital printing, whilst still maintaining our core skills of colour accuracy and optimising images to get the very best out of them. We're quite fussy about getting every image we print just right.
Over 30 years of printing experience
A thorough knowledge of printing processes and media
Always happy to talk to you about getting the best from your print
We archive every job we do, it makes it easy to reprint your job, even from many years ago
We're not the cheapest, but we reckon we charge a fair price for our work. Our advice is free!

Redcliffe Imaging is a
Fine Art Trade Guild Accredited Printer
. Only prints by members of the Guild conforming to Guild Standards can use the Guild logo. The Guild sets standards for print publishing in order to protect the interests of the public and maintain confidence in the publishing of fine art. Artists, publishers and fine art printers are encouraged to promote their high production standards and the integrity of their limited editions by following Guild Standards and should ideally be used in conjunction with
BS 7876:1996
.

Our experience in the preparation, presentation, storage and conservation of prints at Redcliffe Imaging were audited by Hahnemühle FineArt and as a result Redcliffe is now accredited by Hahnemuhle FineArt as a Certified Print Studio. This certification acknowledges that we have the expertise for reproducing age resistant prints on Hahnemuhle fine art inkjet papers and canvases with a consistent quality.
Find The Person You Need To Discuss Your Order
Where's my order, when will it be ready? - ask for Adrian or Tom
Have a technical question about your image file or print job? - ask for Wayne, Ellie or Emma
Like to place a new order or repeat a previous order? - ask for Louise or Jo
Contact Us - For specific contact information and to see what all these people look like,