Marketing Your Greetings Cards
Publications and guides to help you get started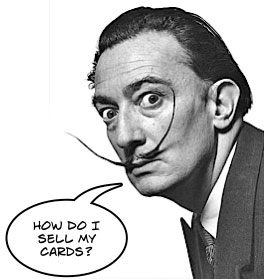 What's the best way to market my greeting cards? Many self publishers use traditional means like art shows, craft exhibitions, local art galleries, independent shops, markets and street stalls. The key to success with craft shows and exhibitions is choosing the right venues and being in the right location to be seen.
Your first step might be to pound the pavements and approach independent shops or galleries with your line of card products. If no buyer is available for an appointment, just leave some sample cards. You will get quick feedback on what does or does not sell and this may be the beginning of useful trade contacts for future orders. Starting out can be hard work and could result in little interest at first, but be determined if you believe your work will sell.
Are you ready to start selling your greetings cards with your own website? More and more bespoke card work will be sold online and a good website in conjunction with traditional ways of getting your work noticed is the best strategy in order to sell more work.
£0.00 Free from Amazon [Kindle Edition]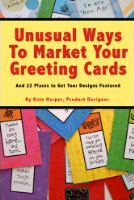 A 32 page booklet on how to get your cards noticed in non-traditional ways. Everything from why you should send cards to your dentist, to how to get special features in national publications. Some useful tips for designers who are starting out and want to get their cards into the hands of people beyond friends and family.
This small publication by Kate Harper also includes submissions guidelines and contacts for 22 Gift Industry publications and professional gift industry blogs that seek out new greeting card designs to feature for free. (5,000 Words and 17 greeting card images included)
£1.98 from Amazon [Kindle Edition]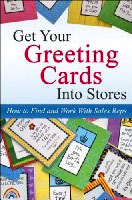 If you already make your own greeting cards, this book explains how to get your cards into stores and sell them nationwide. Included are guidelines on: how to price your cards for a profit, how to get professional feedback, where to find a sales representative and and what industry standards you should follow.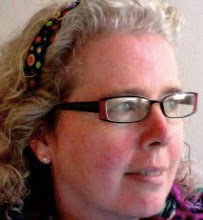 This is another publication by Kate Harper who has worked in the gift and greeting card industry for twenty years and has designed thousands of cards and gifts.
She started her own handmade card business and serviced over 2,000 accounts including Barnes and Noble, Whole Foods Markets and Papyrus.
Kate Harper is a designer who specialises in greeting card designs and gift products for the marketplace.

£19.53 from Amazon
A guide to creating, designing and marketing. A practical and definitive manual for artists working with oils, water colours, pastels, graphics, collage, computer art and photography.
This book provides a road map for both the self publisher and those who choose to have their work published by others. The topics covered include finding a publisher - royalty schedules - the economics of publishing - self-publishing - production methods - market research - clues to poster image selection - market positioning - finding a printer - finding a sales rep - managing your business and fulfillment.
Written over 19 years ago by Harold Davis, who has successfully created and marketed his own cards and posters. You may find this book rather dated on the technology of printing methods, but still a useful guide for self publishers.