Barcodes For Greeting Cards
When do you need a barcode printed on your greeting card?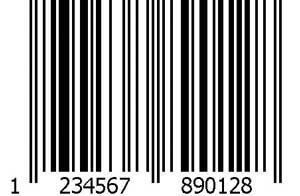 If you are considering selling your cards to retail chains or major retailers then you will be required to have a barcode printed on the back of the card. In the case of Greeting Cards this will be an EAN-13 barcode, which is a standard 13 digit barcode.
How do barcodes work?
Barcode numbers are a simple way for retailers to enter your card or range of cards on to their stock system. This means the correct price is charged for your greeting cards at the till and the retailer can order more cards from you if their stock level gets too low.
You have to buy your EAN-13 barcode numbers and every barcode number issued is unique, you are the only person in the world who can legally use the bar code numbers you purchase. Most small greeting card publishers can buy their barcodes in ones, fives or more from independent barcode suppliers who charge a one-off payment. Try Barcode Bird or Get A Barcode, the more barcode numbers you order the cheaper it becomes.
Larger greeting card publishers can first register with GS1 UK. You will be allocated a Company Prefix which will always form the start of your EAN-13 barcodes and uniquely identify them as yours, you will have 1,000 EAN-13 barcodes available to you. The current cost of joining GS1 is £113.35 plus the first year's fee of £113.35 (£226.70 in total) thereafter an annual fee of £113.35.
Yes I do need a barcode printed on my card
If you intend printing the EAN-13 barcode onto the reverse of your card one, or more, of the following will have to be considered:
1. The surface of the card material (is it smooth or dimpled?)
2. The colour of the card in the area you wish to print the barcode - it must usually be white
3. Colour of the barcode - cold colours such as green, blue, violet, and black make a good choice for bars, as they appear black under red scanning light. Download acceptable barcode colour combinations chart.
4. Barcode 'magnification' - usually printed at 100% (The minimum allowable magnification for an EAN-13 Barcode is 80%)
5. Space available on the back of the card
A barcode would spoil the look of my card!
It might be that printing a barcode on your card is not possible for technical reasons, or perhaps it spoils an otherwise perfect presentation. In this case you can print your barcodes onto self adhesive labels and affix them to the outside of the 'cello' bags, and these labels could of course incorporate other details such as "Blank Inside" etc.