Folding Business Cards
A Modern Take On The Traditional Business Card
You can use your folding business cards to hand out at your next art event, to keep in touch with previous customers and let them know, with a personalised message, about new work or upcoming exhibitions of your work.
You have room for additional important information, such as special offers or introductory deals that simply won't fit on a regular business card.
Like a minature greeting card, your folding business card will tell people your name and provide potential buyers with a way to contact you.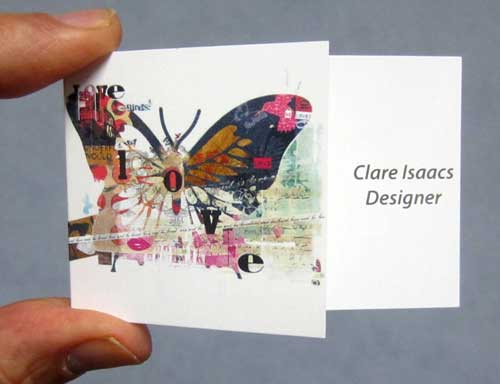 | Price Per Set Of Cards | 25 | 70 | 150 | 250 |
| --- | --- | --- | --- | --- |
| Folding Business Card - 85mm x 55mm (140mm x 55mm open) | £7.50 | £19.50 | £37.50 | £57.00 |
Prices Shown Inclusive of VAT